Presentation Guidelines
PHMAP23 is a hybrid event. All presentations will be shared with online attendees via Zoom. Onsite attendees are required to use a Zoom host PC at the session.
Each presentation has 20 minutes (15 minute presentation and 5 minute Q&A)
Please come to the session room 10 min before the session.
Preparing presentation slides
We request the authors to submit their slides on EasyChair before the
conference. Please upload your slides by September 4th 2023 (AoE). The committee will copy them to the Zoom host PC at the session room. You can also bring your slides on a USB memory stick on the day of the
conference.
A pptx file of the slide template is available.
Instructions for submitting presentation slides
We would like to collect presentation slides from all presenters, including those who will be physically attending the conference. This will help us prepare in case of last-minute changes, technical difficulties, or any unforeseen circumstances that may arise during the event. Having access to the presentation slides in advance allows us to ensure a smooth and uninterrupted flow of presentations, even if there are unexpected challenges. Additionally, having a backup of the slides ensures that we can provide continuity and maintain the quality of the conference experience for all attendees.
This will also enhance the impact of the accepted papers and enables us to accommodate online participants who are unable to attend the conference in person, ensuring their engagement and involvement throughout the event.
We believe that our approach is accordance with our mission to accommodate diverse participations in our conference, so please prepare and upload your presentation slides through EasyChair.
Steps for the submission
Go to your paper author page > add or update files.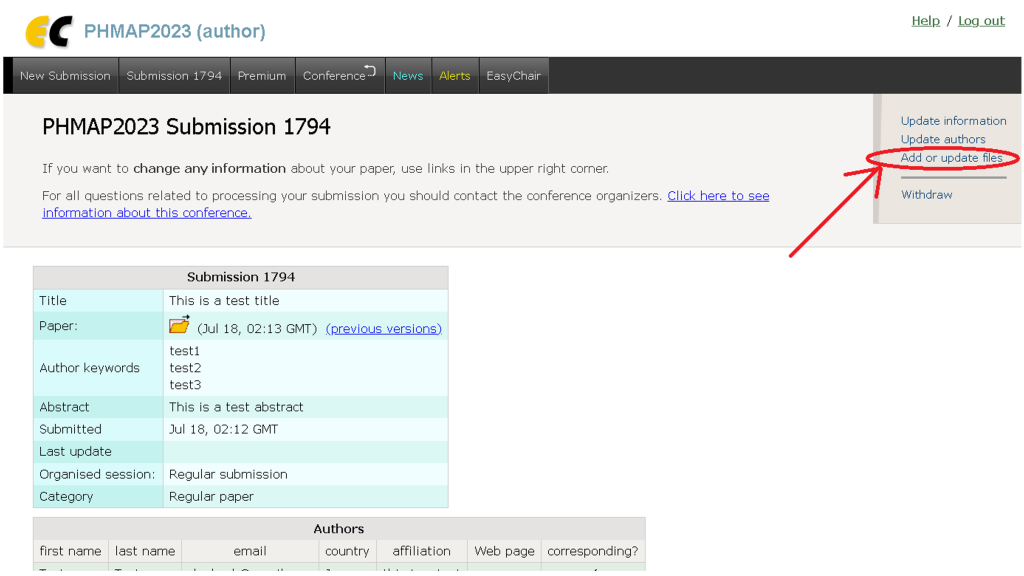 You can upload your slides from here.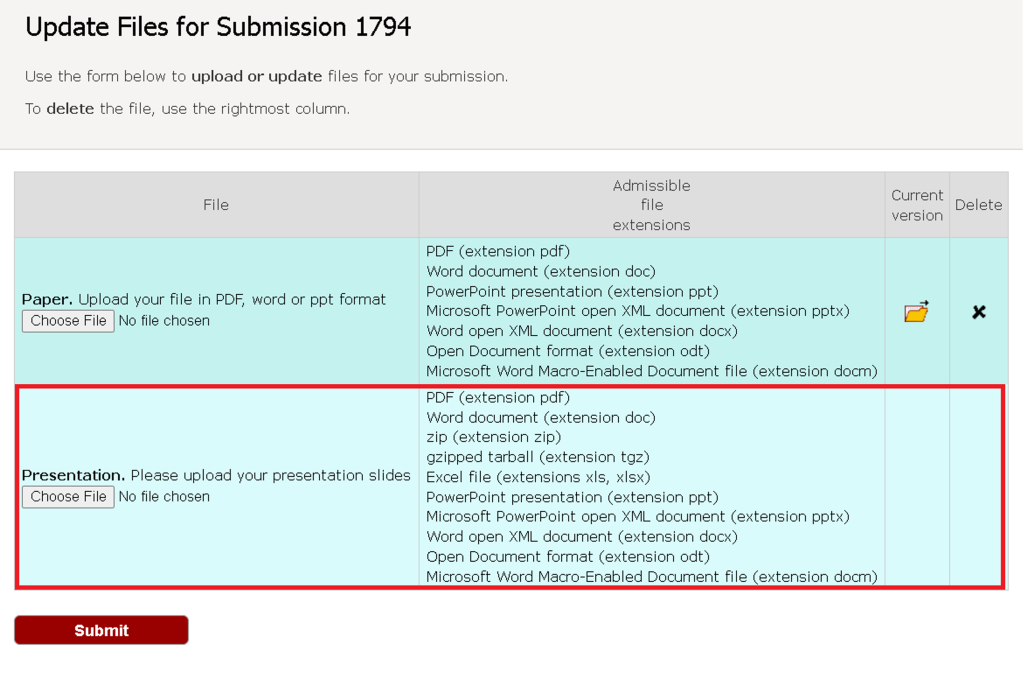 We are hoping to make the slides available during the conference and also for one month afterwards.
"No Paper, No Podium" and "No Podium, No Paper" Policies
If a written paper is not submitted by the final manuscript deadline, authors will not be permitted to present the paper at the conference. Also, if the paper is not presented at the conference, it will be withdrawn from the proceedings. It is the responsibility of those authors whose papers or presentations are accepted to ensure that a representative attends the conference to present the paper. These policies are intended to eliminate no-shows, improve the quality of the program for all participants, and to ensure that the published proceedings accurately reflect the presentations made at the conference.
The rest of information will be updated later.