Journal Publications
Selected and qualified papers will be recommended for possible publication in the special issue of major international scientific journals below with peer review after the conference.
---
Journal of Intelligent Manufacturing

---
International Journal of Prognostics and Health Management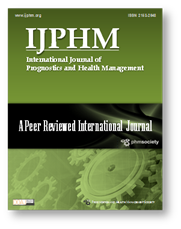 ---
To be eligible for journal publication, every paper must be presented during the conference.
The review process for journal publication may begin as early as the full papers are submitted, although it can be extended to several months after the conference.
Outstanding papers will be considered for journal. The organising committee will invite selected authors to submit their revised manuscripts in a special issue after the conference.
There will be additional requests for revision and reformatting of the manuscripts as well as expenses as to the specific requirements of the journals.
Further information regarding the journal publication will be provided continually on the conference website.
For more information about the journal publications, please contact: secretariat[at]phmap.jp.